Rowdy hall, founder/instructor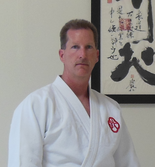 Professor Rowdy Hall has been a student of the martial arts since 1964. He holds ranks in American Kenpo, Kodokai Daito-Ryu Aikijujutsu, Hakko-Ryu Jujutsu, Seibukan Jujutsu, Aikido/Aikibujutsu, Shinkendo and Toyama Ryu Batto-Jutsu. Professor Hall has also trained in a variety of martial art systems including Judo, Enshin-Itto-Ryu Iaido, Kokodo Kyu Shin Ryu Jujutsu, Chinese Bok-Fu, Boxing and Inayan Eskrima.
Professor Hall founded the basis of Shikon Ryu Aikibudo in 2000, and was inducted into the United States Martial Arts Hall of Fame in 2005. Since 2009, he has been an active member of the Executive and Standards Board for the Kilohana Martial Arts
Education Cultural Assocation. In 2010, he was awarded the title of Professor by the Kilohana Martial Arts Association.
Professor Hall is also heavily involved in the healing arts. He owns and operates a sports rehabilitation and massage practice known as
Restoration BodyWorX
in Morgan Hill, California. He is certified and licensed massage therapist, and is a member of the American Massage Therapy Association. Professor Hall also teaches the healing arts, and is the Director of Academics for the School of Kilohana Massage & Healing Arts, where Professor Okazaki and Professor Sig Kufferath method of Restoration Massage is taught.
Professor Hall is certified in the Basic and Advance levels of Hawaiian Massage as taught by Professor James Muro, and Acupressure Points (Koho Shiatsu) as taught by Shodai Soke Yasuhiro Irie. He is a graduate of the National Academy of Sports Medicine (Performance Enhancement & Corrective Exercise Specialist); certified Post Rehabilitative Exercise Specialist, through the American Fitness Professional & Associates; graduate of De Anza College Sports Massage program, taught by Dr. Justin Brink. Professor Hall is also a certified Kineso Taping Practitioner and a certified Instructor in Power taping by Rock Tape; certified in GavilanPTB Techniques, (Instrument assisted Soft tissue Mobilization) and certified in Level 1 courses in both Functional Movement Screening and Core Training System (FMS), and Selective Function Movement Assessment (SFMA). Professor Hall also received his ATC certification through the National Athletic Trainers Association (NATA), and continues his education in Therapeutic and Rehabilitation Therapies.
Professor Hall is also a retired police officer. He is a graduate of the FBI Swat School, San Jose Police Merge Handgun School, Thunder Ranch & Gun Sight advance certification courses in pistol, carbine rifle, and Shotgun. He has experience in undercover narcotics, narcotic enforcement, high risk entries, and dignitary protection. He is a Tactical Defensive Instructor both in armed and unarmed defense. He has his advance instructor certification in the Koga method, FBI tactical defense, & Krav Maga. Prior to joining law enforcement, Professor Hall served in the United States Army's 1st/75th Airborne Rangers, then later joined the 10th Special Forces Group.
---
---
sensei chris nodohara, instructor
Chris Nodohara began studying the essential foundation of Shikon Ryu Aikibudo with Hall Sensei in the late 1990's. He wanted to find a system that didn't rely on size or strength to be effective. He also discovered that this particular system of jujutsu works particularly well as a martial artist gets older.

He has enjoyed participating in the Shinkendo (Japanese swordsmanship) program and using the knowledge obtained in this sword-based system to further his development as an instructor in the jujutsu program. He demonstrates the best aspects of "budo" reflecting the "martial way" in living his life and working with students as an instructor.
---
sensei bryan burkhart, instRuctor
Bryan Burkhart began studying martial arts in 1980. With over 30 years as a martial artist, he is very familiar with the impact that such a life has on the human body. One of the things that attracted Bryan to jujutsu was the fact that it could be done effectively by young and old practitioners alike.

Bryan holds ranks in the essential foundations of Shikon Ryu Aikibudo and American Kenpo. He specializes in working with students that have physical impairments due to injury or age. He shows students how to defend themselves even when they are limited in their range of motion. He believes that no one should have to feel vulnerable even when they don't have the same strength or flexibility as in their younger days.

Bryan holds Certificates in both the Basic and Advance levels of Hawaiian Massage as taught by Professor James Muro. He is a member of the American Massage Therapy Association, a Certified Massage Therapist (CMT) and offers massage therapy services through Restoration Body Worx. He also teaches pain management that focuses on empowering individuals with tools for visualizing a pain-free lifestyle.

Bryan is a co-founder of Sandoshin Taiko, which is a Japanese style of drumming. He has been a percussionist for over 40 years, is a performing member in the group and serves as the business manager. As a woodworker and metalworker, he has assisted all the performing members of the group with constructing their own taiko drums and stands.

In his spare time, Bryan runs

Burkhart Investment Group

.
---
anthony del rosario, instructor
| | |
| --- | --- |
| | Anthony Del Rosario immigrated to the United States from the Philippines in 1979. He became a student and developed a passion for Shikon Ryu Aikibudo after encouraging his son and daughters to participate in martial arts. Anthony has earned the rank of Shodan and continues training with the system's founder, Professor Rowdy Hall.. Anthony shares the teachings to men, women, and children through dedicated self-defense classes and formal Japanese Marital Arts training. |